Grand Princess visits Elsinore
One of the worlds largest cruise line vessels choose to start the cruise season at Elsinore Roads, right next to the Tech-Marine Equipment office.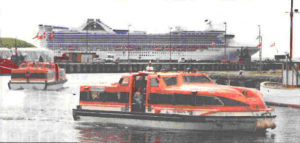 LOA : 290 m
Breadth : 36 m
GT : 109,000 tonnes
Built : 1998 by Fincantieri, Monfalcone
Cabins : 1,272
Grand Princess was the first vessel in the Grand Class ordered by Princess Cruises.
The latest vessel; world largest cruise vessel Saphire Princess has recently joined the fleet and will be put into service this month.
The guests onboard are surrounded by pure luxury ensuring a pleasant and relaxing stay onboard.
The passenger can choose from a rich variety of activities like shows, movies, games etc.
The passengers were brought to shore in the dedicated shore boats and disembarked at the Northern Jetty.
From here they were walking to Kronborg Castle, were Shakespeare's Hamlet took place.
After this coaches took the passengers to the wonderful countryside in the northern part of Sealand.
After a successful stop over, Grand Princess lifted her anchor and continued the cruise in the Baltic Sea and the Norwegian coast.
First stop were alongside Langelinie Quay in Copenhagen, right next to the Little Mermaid.
Tech-Marine Equipment, Hornbæk, who produced and delivered the mooring equipment for the majestic vessel, was thrilled to welcome this vessel in the Danish waters.
The equipment was delivered back in 1998 and when it leaves the workshop it is normally the last we see of it. The visit gave us an opportunity to see the equipment "in action".
Tech-Marine Equipment has delivered the mooring equipment for the sister ships as well and are currently optimizing and producing equipment for six ROPAX ferries and two cruise vessels.
The latest development in steel prices has encouraged the yards and Tech-Marine to seek alternative and optimized solutions in order to keep the price level.
This have in some case let to a "weight loss" of up to 30% and a price reduction of 5 – 10% on the "old" prices.
Tech-Marine Equipment joined this spring the E-Euroship portal which host prominent customers like Fincantieri, Alstom, Meyer Werft, IZAR and Howaldtswerke.
This way purchase have been made easier as the products so to speak are at your fingertips as well as the customers can cut their procurement cost.
Tech-Marine Equipment expects to have the product range represented on the portal during the summer.
Tech-Marine wishes a bon voyage!