Hatch Covers
Record breaking folding hatch cover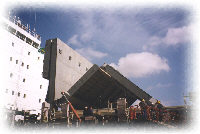 Design                      Tech-Marine Consulting ApS
Producer                   Tech-Marine Equipment ApS
Opening                    12585 x 13400 mm
Design load               1.75 ts/m2 uniform distribution
20' container stack    60 ts
40' container stack    90 ts
Class                         Germanischer Lloyd
Tech-Marine Equipment has invented a new hatch cover construction which is essential more simple and is using less material than the prior know construction.
As a consequence of this, the hatch covers considrably easier to install and operate. Furthermore the new opening principle makes the traditional wheel lifters superfluous.
The new hatch cover construction is patented and approved by the classification society Germanisher Lloyd.